The Tigerwood Brazilian Koa colour gradient varies from a light orange to a deep reddish to brown.
You can recognize it by its brownish stripes reminiscent of those of a tiger.
​
Scoring at approximately 2160 on the Janka scale, this exotic hardwood is considered to be very dense, hard and strong.
Among many other properties, the Brazilian Koa produces a natural oil that makes it resistant to rot and decay that can be caused by termites.
This wood is good for countering shrinkage, warping and unusual movement of the plank which makes it resist denting.
Tigerwood Hardwood Selection
We carry a wide variety of grade sizes at great prices!
Prefinished Select and Better Natural
Prefinished
Character Grade
Custom orders available of 4" x ¾" Prefinished Select and Better Natural and Unfinished grades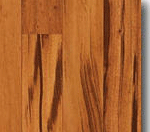 *Tigerwood cannot be stained due to its high ranking on the Janka Scale of Hardness.​
All images shown in gallery showcase installations done by Exotic Stonewood Flooring